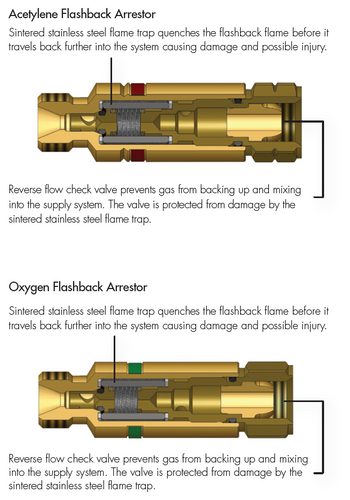 INCREASE SAFETY IN WELDING AND CUTTING
Western's Flashback Arrestors are designed to quench flashbacks there by protecting equipment such as hoses, regulators and cylinders.
Gas Services
• Oxygen
• Fuel Gases: Acetylene and Hydrogen
• CGA 510
FEATURES AND SPECIFICATIONS
• Maximum operating pressures are 15 psi for acetylene, 22 psi for other fuel gases, and 125 psi for oxygen.
• Rated flow capacity of 40 SCFH with a 5 PSIG pressure drop across all models, perfect for high-flow applications.
• Permanently roll stamped flow direction indicators.
• 10" maximum cutting capacity
• Reusable, manual resetting not required
• Shorter, lighter torch side flash arrestors which reduces additional physical stress on the operator
• Fixed one-pieced inlet to swivel-nut hose connection that can be tightened down to prevent leaks while still enabling free rotation for attachment to the torch.
• UL Listed
• 1 00% factory flame and leak tested
• Made in the USA
• Internal 316 stainless steel filter that will quench the flame and stop an ignition – this is automatically a reusable device and testing shows it will stand up to over 5x rated life. The stainless steel is more durable then units that use brass for filters or internal components, which will corrode over time.
• Internal check valves designed to prevent reverse flow and subsequent mixing of oxygen and fuel gases.
• Torch and regulator models provide full use upstream protection.
• Complete installation, testing and operating instructions included.